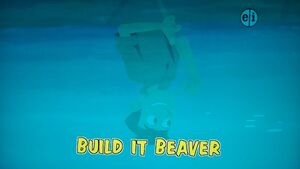 Build It Beaver is the 8th episode of the Wild Kratts TV series.
Description
Edit
When the Wild Kratts creature adventurers accidentally break a beaver dam, they must lend a hand to help the beaver family rebuild it and restore the pond ecosystem for all the creatures who live there. They observe how the beavers make marvelous, complicated structures blocking the flow of water down a stream. Through building these dams, this remarkable animal single-handedly transforms the landscape, creating massive wetlands and homes for a huge variety of wildlife.
Animals Featured
Edit
Beaver
Otter
Moose
Smallmouth Bass
Wood Duck
Frogs
Star-Nosed Mole
Wolves
Raccoons
Never Before or Rarely Seen Wildlife Moments
Edit
A family of beavers with kits inside a beaver lodge
The dam building process from start to finish
An otter raiding a beaver lodge
References
Edit
Ad blocker interference detected!
Wikia is a free-to-use site that makes money from advertising. We have a modified experience for viewers using ad blockers

Wikia is not accessible if you've made further modifications. Remove the custom ad blocker rule(s) and the page will load as expected.