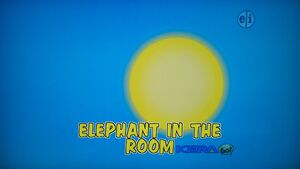 Elephant in the Room is the 17th episode of the Wild Kratts TV show.
Description
Edit
The brothers come across a lone baby elephant and bring him back to the Tortuga HQ for safety until they can find his mom. But they learn how mischievous baby elephants can be and get more than they bargained for when it almost destroys the Tortuga! As they rush to get the baby elephant home, the WildKratts team realizes that animals have different structures that serve various functions in growth and survival. And an elephant's trunk is like the multipurpose tool of "creature features" with hundreds of uses, including: showering, blasting water, grabbing, lifting, communicating, "hearing", pushing and pulling.
Animals Featured
Edit
Never Before or Rarely Seen Wildlife Moments
Edit
Elephants "hear" seismic type sounds/non audible rumblings
References
Edit
Ad blocker interference detected!
Wikia is a free-to-use site that makes money from advertising. We have a modified experience for viewers using ad blockers

Wikia is not accessible if you've made further modifications. Remove the custom ad blocker rule(s) and the page will load as expected.