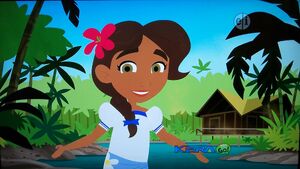 Nina is a member of Wild Kratts Costa Rica. She first appeared in Walk on the Wetside where she said some of the wild Basilisk Lizards were disappearing. She also recently appeared in "Shadow: The Black Jaguar", being one of the protagonists throughout the episode.
Appearances
Edit
Ad blocker interference detected!
Wikia is a free-to-use site that makes money from advertising. We have a modified experience for viewers using ad blockers

Wikia is not accessible if you've made further modifications. Remove the custom ad blocker rule(s) and the page will load as expected.