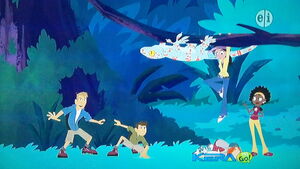 The Gecko Effect is the 33rd episode of season 1 of the Wild Kratts TV show.
Description
Edit
There's a mystery to be solved, as the Wild Kratts team wonders how a Gecko Lizard climbs up smooth surfaces and can even climb upside down.
Learning Goals
Edit
Find out how the gecko climbs upside down even on smooth surfaces.
Animals Featured

Edit
Tokay Gecko

Moon Rat

Conehead Katydid
Never Before or Rarely Seen Wildlife Moments

Edit
The gecko's footpad in close up and in action climbing surfaces as smooth as glass.

Close-up of a gecko's bizarrely shaped pupil, which enables the creature to see in full color even in low moonlight.
References

Edit